Trollbeads
Silver Fantasy Necklace with Black Onyx
Black Onyx is a real powerful stone; it sharpens your mind and imbues you with natural authority. It helps its bearer make the right decisions, granting them clarity of thought and enhanced powers of concentration. Here it is on a beautiful Fantasy Necklace. Add your favorite Trollbeads to the necklace above the Black Onyx without the use of tools.
Product Details
| | |
| --- | --- |
| Name | Silver Fantasy Necklace with Black Onyx |
| Type | Necklace |
| Material | Sterling Silver |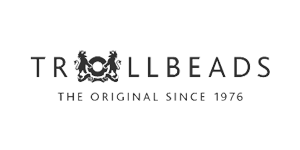 The story about the original and unique Trollbeads all started in Denmark in 1976. The first bead, which later gave name to the Trollbeads collection, was a small bead decorated with no less than 6 faces. It was designed by Søren Silversmith and sold from his father Svend's jewellery shop in central Copenhagen. The beads were created at a time where it was fashionable to have a silver bead hanging on a leather thong around the neck. But instead of letting the bead hang in an eyelet, Søren wanted to let the leather cord go through the bead. Later on, Søren's sister, Lise, began to put the beads on silver bracelets, one on each bracelet. Lise opened another jewellery store and one day a customer asked to have an extra bead put on her bracelet. The storekeeper was surprised but followed the customer's wish. From then on, the adventure and Trollbeads movement started. In cooperation with the customers and according to their wishes, the collection grew. This was the invention and the beginning of an original jewellery concept that today is enjoyed worldwide.