Trollbeads
Rainbow Bridge
In numerous cultures the rainbow holds an ubiquitous meaning of spiritual cohesion, and is a union between sky and earth.

This bead is made of Italian glass. Please note: Glass is a fantastic material. Each glass bead is handmade from red-hot glass in the open flame and no two glass beads are ever completely alike. This goes for size, coloration and pattern. Your bead is absolutely unique and may have slight variations from bead pictured.
Please contact Faini Designs Jewelry Studio for availability.
Product Details
| | |
| --- | --- |
| Name | Rainbow Bridge |
| Department | Fashion |
| Type | Bead |
| Material | Glass |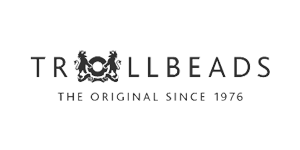 The story about the original and unique Trollbeads all started in Denmark in 1976. The first bead, which later gave name to the Trollbeads collection, was a small bead decorated with no less than 6 faces. It was designed by Søren Silversmith and sold from his father Svend's jewellery shop in central Copenhagen. The beads were created at a time where it was fashionable to have a silver bead hanging on a leather thong around the neck. But instead of letting the bead hang in an eyelet, Søren wanted to let the leather cord go through the bead. Later on, Søren's sister, Lise, began to put the beads on silver bracelets, one on each bracelet. Lise opened another jewellery store and one day a customer asked to have an extra bead put on her bracelet. The storekeeper was surprised but followed the customer's wish. From then on, the adventure and Trollbeads movement started. In cooperation with the customers and according to their wishes, the collection grew. This was the invention and the beginning of an original jewellery concept that today is enjoyed worldwide.